Amazing threesome in VR Gay with Max and Duncan

Amazing threesome in VR Gay starring by Max Born and Duncan Sheen!
When you met Max Born, your best friend's, Duncan Sheen, stepfather, you felt some kind of attraction for him. We could say it was a crush. That's why, every time you can, you take the opportunity to pay him a visit and share moments alone with him. Truth is you weren't expecting what happened. You would have never imagined Max could feel the same as you. When he started kissing you, touching you while licking your chest and rubbing his ass against your cock…surprise!Duncan caught you. But, to your wonder, he decided to join this get together in VR Gay Porn.
Duncan invited you to a playdate at home. And for some reasons that only happen in virtual reality gay porn, right when he was going to buy some snacks, Max came. You were about to congratulate Father's Day when you suddenly felt his hand on your cock. At first you didn't understand what was going on, but you really enjoyed his tongue going through your body.
Duncan was initially surprised when he saw what you were doing, but after some minutes, he got carried away by the sexual desire of enjoying reverse cowboy position with you. Now that you are three, better to take this to the bedroom.
Feeling Max' cock fucking your ass in missionary position was so hot as seeing Duncan playing with his balls while being on you in cowboy position. Making your sexual fantasy come true felt really exciting.
We always have to listen to our sexual desires and take some risks when it comes to satisfy them. Who knows, they may be easier to satisfy in VR Gay sex that what you thought.
Amazing threesome in VR Gay with Max Born and Duncan Sheen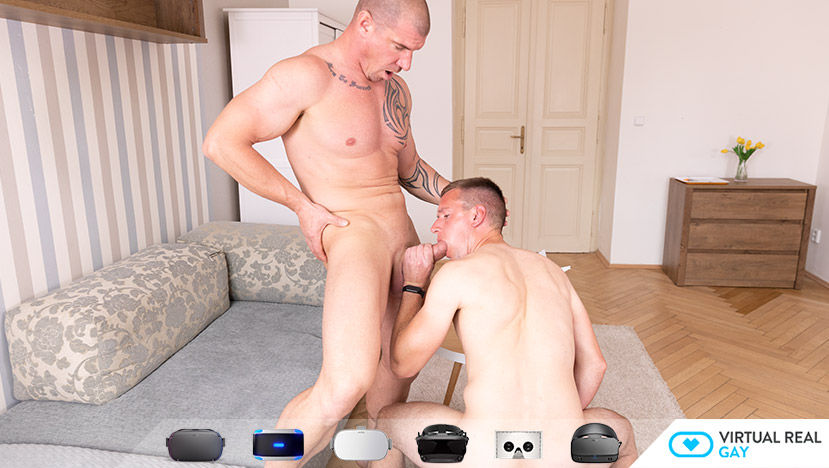 Because you are going to have a great time with this Amazing threesome in VR Gay video. So watch it inside your Oculus Rift S, Oculus Quest, HTC Vive or Windows Mixed Reality! Also you can watch Virtual Reality videos in 5K 180º FOV for Smartphone Cardboard, Gear VR and PSVR.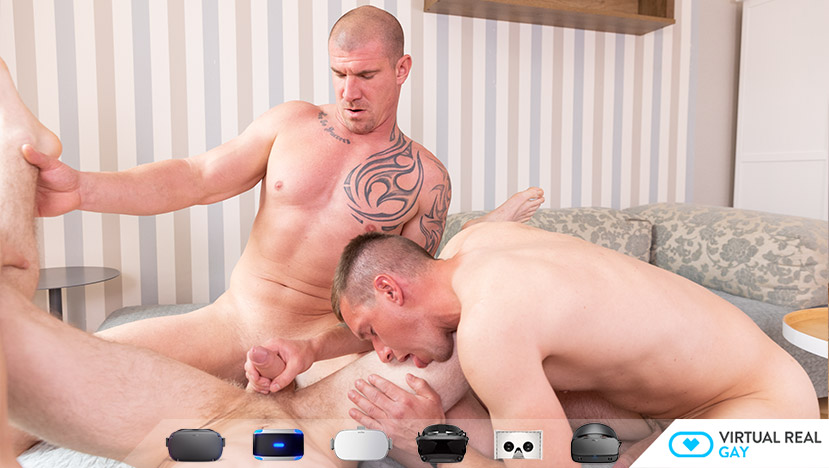 So we want to make more Amazing threesome in VR Gay experiences. With many more actors in lots of situations… everything to take your sexual dreams a step forward. Making them real in your Oculus Go, Oculus Rift, Google Daydream VR, Xiaomi Mi VR. Also available for Windows Mixed Reality Samsung Gear VR, PSVR, HTC Vive or VR smartphone headset.
Then we want to keep shooting more virtual reality scenes for you. So choose quarter or annual option in the Sign up! Get inside and have great moments with our videos! Click here!
Finally you can check our network, if you want to satisfy your curiosity. Discover: VirtualRealPorn, VirtualRealPassion, VirtualRealAmateur, VirtualRealTrans our latest site VirtualRealJapan and our VR Porn game: VRLove