Blindfold sex in VR Gay with Kristien Ficher
Blindfold sex in VR Gay starring by Kristien Fisher!
"Blindfold me". That was the moment when you had to take the blindfold and put it on your boyfriend, Kristien Fisher. Long before 50 Shades of Grey, you decided to buy it and try it between you. Truth is, you make use of it from time to time, but today, Kristien decided to dust it off and use it. You were completely excited. He was on top of you playing with your hard penis while you rubbed his smooth ass. But after few minutes, you realized there are some moments in VR Gay Porn which are better enjoyed watching your partner.
Not everyday can be the same. Just like it happens with sex. Today you both woke up feeling kinky. You were completely hard. Every time he touched your penis with his hands and you used your fingers to masturbate his rock-hard ass, you were getting more and more excited.
Few minutes later, he took the blindfold off. He wanted to watch you enjoying this new experience in VR Porn Gay with him. When he sat on top of you, you could see his eyes of excitement and feel his cock getting hard so you told him to fuck in reverse cowboy position. You know how much he likes that position.
Even though you could feel how much he was enjoying it, you wanted to see him giving pleasure to himself, so you told him to lay down to watch him masturbate while you were fucking in missionary position. It was more than enough for you two to cum in emotion.
Maybe blindfolds aren't a thing for you. And that only means you are going to have more adventures in XXX VR Gay until finding your perfect sex games.
Blindfold sex in VR Gay with Kristien Fisher
Because you are going to have a great time with this Blindfold sex in VR Gay video. So watch it inside your Oculus Rift S, Oculus Quest, HTC Vive or Windows Mixed Reality! Also you can watch Virtual Reality videos in 5K 180º FOV for Smartphone Cardboard, Gear VR and PSVR.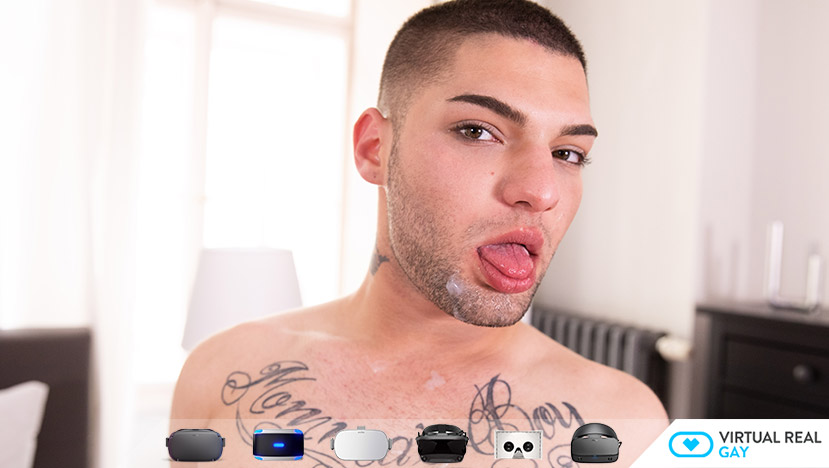 So we want to make more Blindfold sex in VR Gay experiences. With many more actors in lots of situations… everything to take your sexual dreams a step forward. Making them real in your Oculus Go, Oculus Rift, Google Daydream VR, Xiaomi Mi VR. Also available for Windows Mixed Reality Samsung Gear VR, PSVR, HTC Vive or VR smartphone headset.
Then we want to keep shooting more virtual reality scenes for you. So choose quarter or annual option in the Sign up! Get inside and have great moments with our videos! Click here!
Finally you can check our network, if you want to satisfy your curiosity. Discover: VirtualRealPorn, VirtualRealPassion, VirtualRealAmateur, VirtualRealTrans our latest site VirtualRealJapan and our VR Porn game: VRLove