Favorite Dildo in VR Gay with Donnie Marco

Favorite Dildo in VR Gay with Donnie Marco and Tom Bacan
Brighten up your morning with Donnie Marco.
Most people hope to wake up with their significant other by their side and just stay on the bed while cuddling with each other. You are lucky enough because your VR boyfriend, Donnie Marco, prefers to stay in bed with you all day long, instead of going out. You just woke up and immediately saw Donnie staring at you. He is feeling a bit horny and wants to play with his dildo, but he doesn't want to do it without you taking part in his little morning action.
Donnie is quick to take off his clothes and your boxers. He then gets straight to slobbering your shaft with his warm lips and soft tongue. The hairy hunk alternates between giving you a blowjob and sucking his dildo. After the sloppy blowjob, Donnie wets his rod with his spit and shoves it into your asshole. You can feel his huge rod stretching the insides of your ass. Donnie alternately sucks your dick and pounds your bum. The two of you then jerks off while watching each other. The feeling of masturbating with you made Donnie jerk off his cock harder until he cums all over your body.
Favorite Dildo in VR Gay with Donnie Marco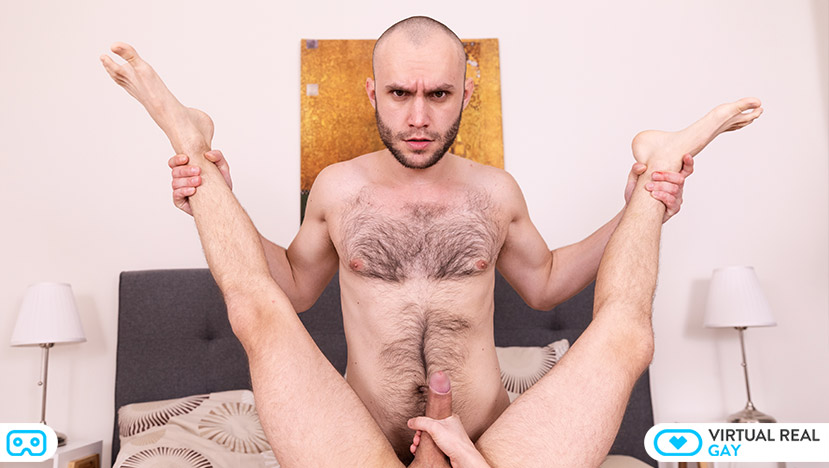 Because you are going to have a great time with this Favorite Dildo in VR Gay video. So watch it inside your Oculus Rift S, Oculus Quest, HTC Vive or Windows Mixed Reality! Also you can watch Virtual Reality videos in 5K 180º FOV for Smartphone Cardboard, Gear VR and PSVR.
So we want to make more Favorite Dildo in VR Gay  experiences. With many more actors in lots of situations… everything to take your sexual dreams a step forward. Making them real in your Oculus Go, Oculus Rift, Google Daydream VR, Xiaomi Mi VR. Also available for Windows Mixed Reality Samsung Gear VR, PSVR, HTC Vive or VR smartphone headset.
Then we want to keep shooting more virtual reality scenes for you. So choose quarter or annual option in the Sign up! Get inside and have great moments with our videos! Click here!
Finally you can check our network, if you want to satisfy your curiosity. Discover: VirtualRealPorn, VirtualRealPassion, VirtualRealAmateur, VirtualRealTrans our latest site VirtualRealJapan and our VR Porn game: VRLove