Gay VR blowjob with Leo Grin
Gay VR blowjob starring by Leo Grin
Visiting relatives. As much as you love staying at your brother's, listening to his anecdotes and reliving all those moments you shared together as kids, it's hard to avoid brotherly arguments from time to time. Truth is, you wouldn't be able to face these moments if your boyfriend, Leo Grin, didn't come with you in this VR Gay Porn trips. After all, he knows the best way to cheer you up is with a good breakfast in VR Gay Porn.
Every year Leo goes with you to these familiar meetings. Even though it's something you do enjoy, arguing for one reason or another is normal. In those moments the only thing you want to do is lying down and forgetting about it. As your boyfriend knows you more than well, he's aware of the fact that there's nothing a morning blowjob and a handjob can't solve.
The good thing about being with someone for so long is that your partner knows all the movements that make you go crazy. For example, when he gets his cock very close so you can play with it, the sensual way he gives you a foot licking, when he fucks you in missionary position or when he turns around so you can play with his ass.
Let's say that, till your brother comes home after work, you have plenty of time to keep on fucking the only way you love it: so hard as to make the neighbors start complaining.
You definitely can't wait for the next familiar visit in virtual reality gay porn.
Gay VR blowjob with Leo Grin
Because you are going to have a great time with this Gay VR blowjob video. So watch it inside your Oculus Rift S, Oculus Quest, HTC Vive or Windows Mixed Reality! Also you can watch Virtual Reality videos in 5K 180º FOV for Smartphone Cardboard, Gear VR and PSVR.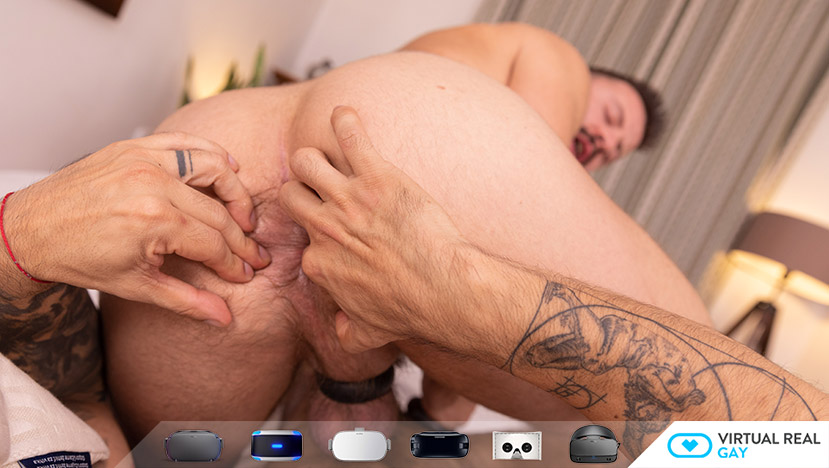 So we want to make more Gay VR blowjob experiences. With many more actors in lots of situations… everything to take your sexual dreams a step forward. Making them real in your Oculus Go, Oculus Rift, Google Daydream VR, Xiaomi Mi VR. Also available for Windows Mixed Reality Samsung Gear VR, PSVR, HTC Vive or VR smartphone headset.
Then we want to keep shooting more virtual reality scenes for you. So choose quarter or annual option in the Sign up! Get inside and have great moments with our videos! Click here!
Finally you can check our network, if you want to satisfy your curiosity. Discover: VirtualRealPorn, VirtualRealPassion, VirtualRealAmateur, VirtualRealTrans our latest site VirtualRealJapan and our VR Porn game: VRLove