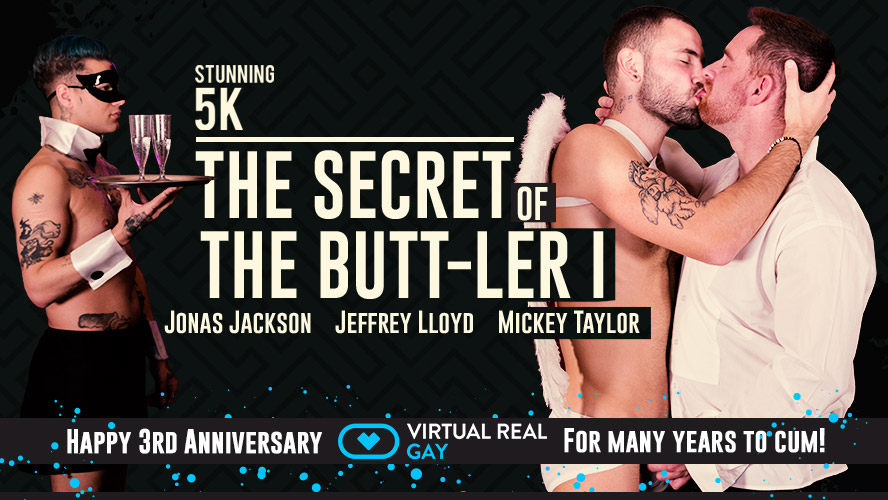 Gay VR threesome annyversary celebration
Gay VR threesome for our third annyversary celebration with these hot tattoed muscled men.
We couldn't let these wonderful three years of VirtualRealGay go unnoticed, obviously. So if you want to be part of our get together, you know what you have to do: grab your oculusgo and find a comfy place.
You, of course, won't be the only one celebrating with us. This anniversary was enough for sensual aristocrat Lord Bailon (Jonas Jackson) to get some inspiration and do a painting of Richard (Jeffrey Lloyd). We don't need to say that, to be a true adventure in vr gay porn, there's one person missing. Luckily for them, Lord Bailon's butler, Louis (Mickey Taylor), can't resist to these guys' hard dicks and watching them enjoying so much with a wet blowjob, he won't doubt a second and will finish what they started with a VR handjob.
And now that the vr threesome is set, cowboy and reverse cowboy position will be more enjoyable for sure.
As we always say: "two make a party, three make a gay vr threesome". Especially when there's always a second part for this VirtualRealGay Anniversary with lots of vr cums.
Gay VR threesome for our third annyversary celebration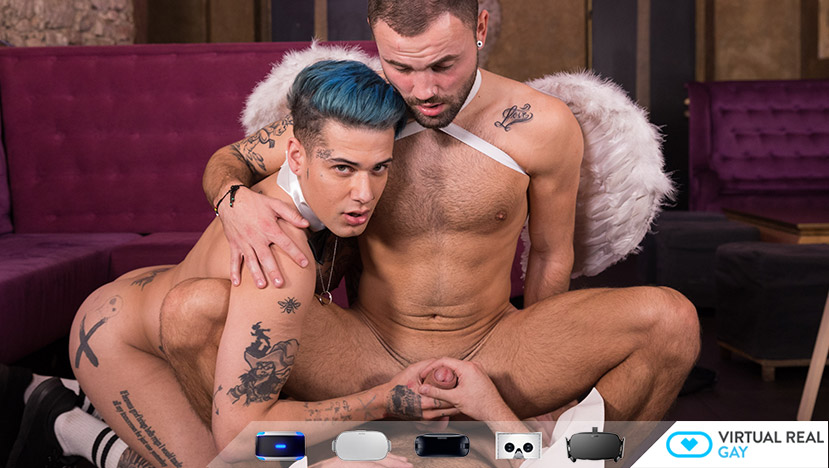 Because you are going to have a great time with this Gay VR threesome scene. So watch it inside your Oculus Rift, Oculus Go, HTC Vive or Windows Mixed Reality! Also you can watch Virtual Reality gay porn videos in 4K 180º FOV for Smartphone Cardboard, Samsung Gear Vr and PSVR.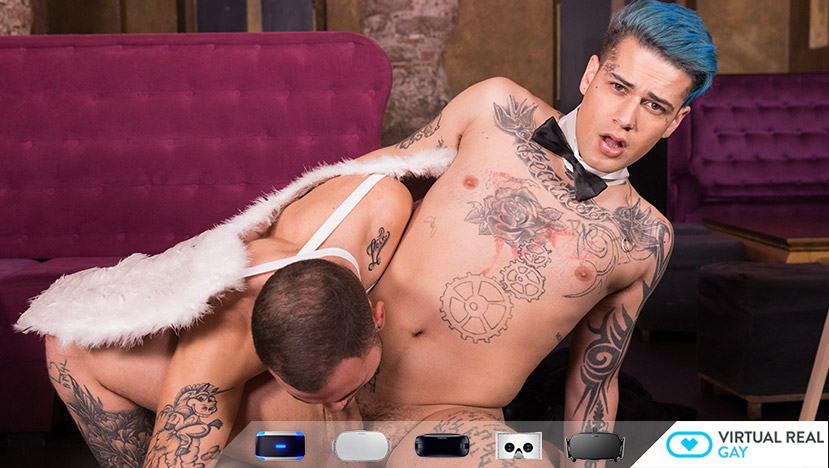 So we want to shoot more new Gay VR threesome content for you. Full of more sexy muscled bearded actors in different situations… everything to take your sexual VR Porn gay fantasies to the next level. And make them real in your Oculus Go, Oculus Rift, Google Daydream VR, Xiaomi Mi VR. Also available for Windows Mixed Reality Samsung Gear VR, PSVR, HTC Vive or VR smartphone headset.
Then we want to keep creating more virtual reality adult Gay VR threesome videos for you. So choose quarter or annual option in the Sign up! Get inside and have an amazing time with our VR Tattoed gay Porn scenes! Click here!
Finally if you haven't checked our VR Porn network, you can take a look if you are curious. Discover: VirtualRealPorn, VirtualRealPassion, VirtualRealAmateur, VirtualRealTrans our latest site VirtualRealJapan and our VR Porn game: VRLove