Muscled Stud Solo Masturbation in VR Gay
Muscled Stud Solo Masturbation in VR Gay with Valdo Smith
Handsome muscled stud, Valdo Smith, arrives too early for work. No one is around in his workplace, so Valdo decides to fool around for a bit. He takes a huge chug of water, spilling a lot all over his shirt. Valdo takes off his top, revealing his hard rock abs and irresistible pecks. Since he's alone, Valdo wants to make the most of his time. Taking off his shirt is not enough anymore. With an enticing body like his, who doesn't want to show it off to the world? Valdo strips off his jeans before bending over on the couch. He then spreads his firm ass cheeks to the side, showing off his tight asshole.
The captivating hunk then turns around and starts playing with his meat sausage. He moves his hips from side to side to make his shaft wiggle like an elephant's trunk. Valdo takes a seat on the couch and continues to jerk off his big cock. He squeezes the shaft hard, making the head turn reddish-pink. The horny lad fingers his tight asshole and plays with his dong at the same time. The combination of these two stimulations is enough to make Valdo hornier and harder. He continues beating his meat until he busts a nut all over the place. The handsome handyman already works up some sweat even before the start of his shift. 
Watch more solo masturbation scenes at VirtualRealGay.
Muscled Stud Solo Masturbation in VR Gay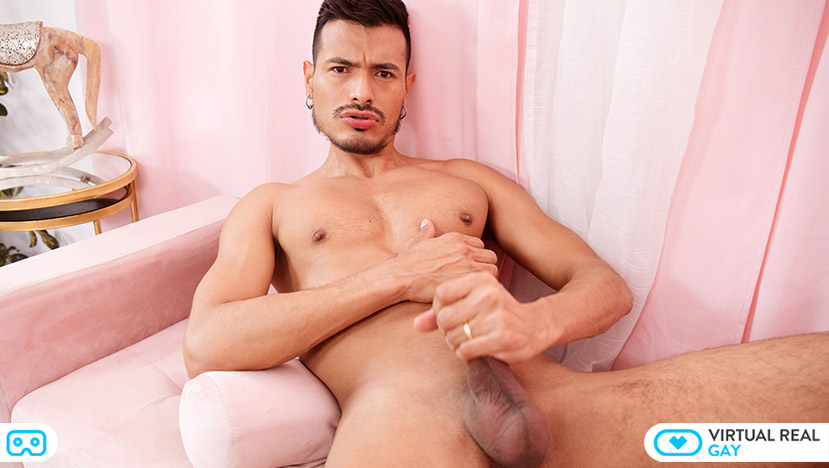 Because you are going to have a great time with this Muscled Stud Solo Masturbation in VR Gay  video. So watch it inside your Oculus Rift S, Oculus Quest, HTC Vive or Windows Mixed Reality! Also you can watch Virtual Reality videos in 5K 180º FOV for Smartphone Cardboard, Gear VR and PSVR.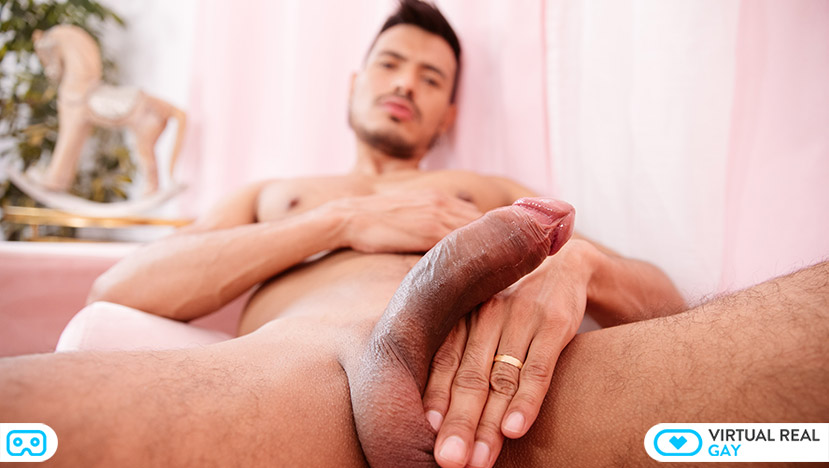 So we want to make more Muscled Stud Solo Masturbation in VR Gay  experiences. With many more actors in lots of situations… everything to take your sexual dreams a step forward. Making them real in your Oculus Go, Oculus Rift, Google Daydream VR, Xiaomi Mi VR. Also available for Windows Mixed Reality Samsung Gear VR, PSVR, HTC Vive or VR smartphone headset.
Then we want to keep shooting more virtual reality scenes for you. So choose quarter or annual option in the Sign up! Get inside and have great moments with our videos! Click here!
Finally you can check our network, if you want to satisfy your curiosity. Discover: VirtualRealPorn, VirtualRealPassion, VirtualRealAmateur, VirtualRealTrans our latest site VirtualRealJapan and our VR Porn game: VRLove