Naughty Leprechaun in VR Porn With Joshua Larson

Naughty Leprechaun in VR Porn With Joshua Larson and Michael Creek
Joining the festive parade has always been a routine for you and your boyfriend, Joshua Larson, every St. Patrick's Day. However, it seems Joshua has something different in mind this year. You got tired of waiting for Joshua, so you decide to go to the room to check out what he is doing. As you enter the room, you see Joshua wearing nothing but white brief, suspenders, and a bowtie. The handsome blonde is ready to go out, but he has other things he wants to do with you first. 
Joshua lies on the bed and reaches out for your cock. There's no time to waste, so the slender stud gets straight to business. He pulls down your pants and gives you a sloppy blowjob until your cock becomes rock-hard. He then lets you ride on top of him. You can feel his big cock digging deeper into your bum as you ride him cowboy style. Joshua continues to bang your ass in missionary and spoon until both of you cum all over your body.
Naughty Leprechaun in VR Porn With Joshua Larson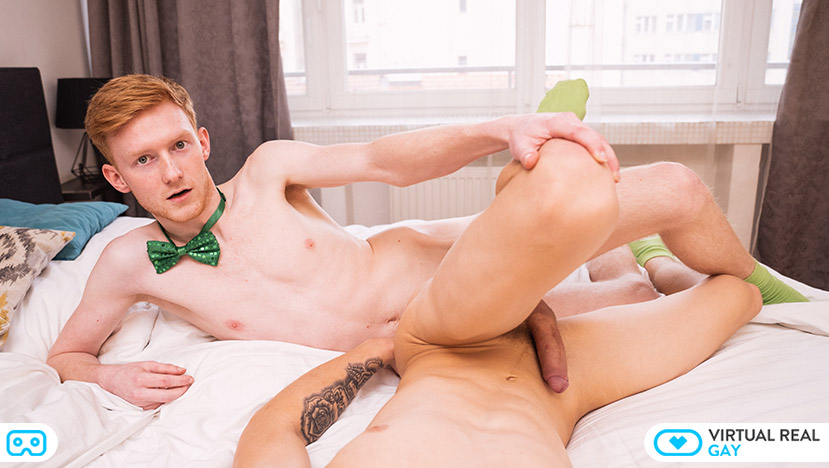 Because you are going to have a great time with this Naughty Leprechaun in VR Porn With Joshua Larson video. So watch it inside your Oculus Rift S, Oculus Quest, HTC Vive or Windows Mixed Reality! Also you can watch Virtual Reality videos in 5K 180º FOV for Smartphone Cardboard, Gear VR and PSVR.
So we want to make more Naughty Leprechaun in VR Porn With Joshua Larson experiences. With many more actors in lots of situations… everything to take your sexual dreams a step forward. Making them real in your Oculus Go, Oculus Rift, Google Daydream VR, Xiaomi Mi VR. Also available for Windows Mixed Reality Samsung Gear VR, PSVR, HTC Vive or VR smartphone headset.
Then we want to keep shooting more virtual reality scenes for you. So choose quarter or annual option in the Sign up! Get inside and have great moments with our videos! Click here!
Finally you can check our network, if you want to satisfy your curiosity. Discover: VirtualRealPorn, VirtualRealPassion, VirtualRealAmateur, VirtualRealTrans our latest site VirtualRealJapan and our VR Porn game: VRLove