Passionate Anal with Blonde Roommate in VR Gay

Passionate Anal with Blonde Roommate in VR Gay with Kyle Polaski and Joker El
Kyle Polaski has a confession to make.
Your blonde VR roommate, Kyle Polaski, confesses that he has feelings for you. You are quite taken aback by the sudden revelation because you are also into him for a long time now. With all the secrets out in the open, both of you feel more comfortable with each other. It doesn't take long before the comfort between you turns into full-blown lust for each other. You take out your big shaft right in front of Kyle to show him that your feelings for him are real. The horny blonde exactly knows what to do. 
Kyle gives your rod a sloppy blowjob, using his soft lips and warm tongue to tickle every inch of your shaft. He then bends over on the bed and offers his tight asshole to you. Without any hesitation, you ram your junk into Kyle's trunk from behind. You can't help but feel hornier as Kyle's asshole tightens around your shaft while he's riding you in cowboy and reverse cowboy. You tirelessly pound the slender lad until you feel like you are about to cum. Kyle then sucks and jerks you off until you give him the warm cum he's always been craving for a long time.
Passionate Anal with Blonde Roommate in VR Gay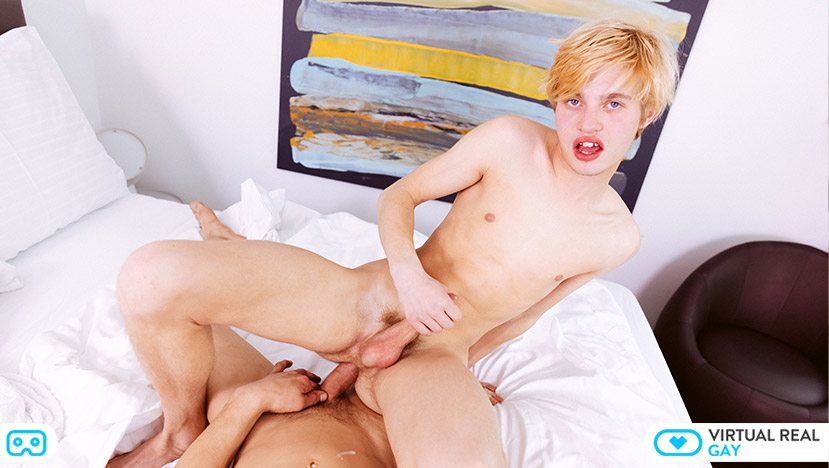 Because you are going to have a great time with this Passionate Anal with Blonde Roommate in VR Gay video. So watch it inside your Oculus Rift S, Oculus Quest, HTC Vive or Windows Mixed Reality! Also you can watch Virtual Reality videos in 5K 180º FOV for Smartphone Cardboard, Gear VR and PSVR.
So we want to make more Passionate Anal with Blonde Roommate in VR Gay experiences. With many more actors in lots of situations… everything to take your sexual dreams a step forward. Making them real in your Oculus Go, Oculus Rift, Google Daydream VR, Xiaomi Mi VR. Also available for Windows Mixed Reality Samsung Gear VR, PSVR, HTC Vive or VR smartphone headset.
Then we want to keep shooting more virtual reality scenes for you. So choose quarter or annual option in the Sign up! Get inside and have great moments with our videos! Click here!
Finally you can check our network, if you want to satisfy your curiosity. Discover: VirtualRealPorn, VirtualRealPassion, VirtualRealAmateur, VirtualRealTrans our latest site VirtualRealJapan and our VR Porn game: VRLove