Two Handsome Studs in VR Gay

Two Handsome Studs in VR Gay with Pavel Sora, Robi Dane, and Nick Vargas
Pavel Sora and Robi Dane are ready to bare it all for you. 
As a casting director, it is your job to choose the right model for the job. You take pride in what you do, not only because you are skilled in looking for prospective talents, but also you have the perk of seeing fresh faces all the time. For today's casting, you decide to spice things up by casting two handsome studs at once. The sight of the bearded hunk, Pavel Sora, and slender blonde, Robi Dane, is enough to make you shiver in anticipation. Are you ready to see what these captivating lads have to offer? 
Without wasting any more time, Pavel and Robi start showing you that they have what it takes to be the next big star. They slowly take off their clothes right in front of you. The hard–rock muscles of Pavel are so difficult to resist, but Robi's slim figure is alluring as well. The lads jerk off their cock right in front of you. Seeing them both masturbating at the same time makes the decision more difficult for you. Both of them are so enthusiastic about playing with their shaft that you just watch them without thinking of anything else. At the end of the day, you still need to decide. So, who would you choose between the two?
Two Handsome Studs in VR Gay with Pavel Sora and Robi Dane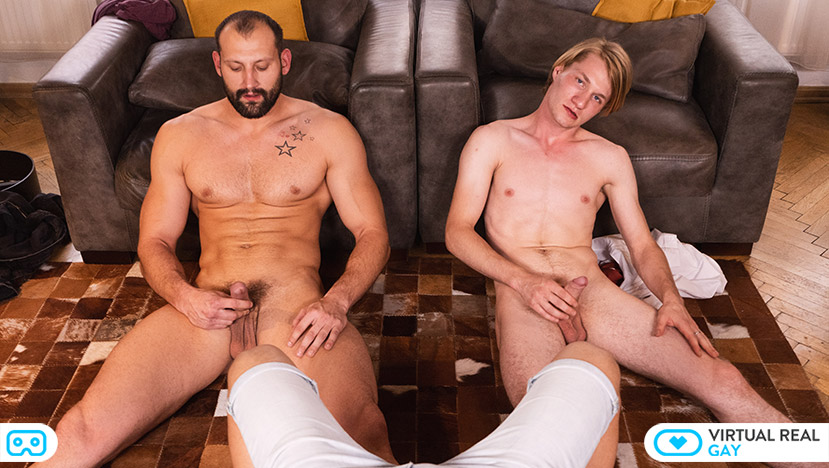 Because you are going to have a great time with this Two Handsome Studs in VR Gay with Pavel and Robi Dane video. So watch it inside your Oculus Rift S, Oculus Quest, HTC Vive or Windows Mixed Reality! Also you can watch Virtual Reality videos in 5K 180º FOV for Smartphone Cardboard, Gear VR and PSVR.
So we want to make more Two Handsome Studs in VR Gay experiences. With many more actors in lots of situations… everything to take your sexual dreams a step forward. Making them real in your Oculus Go, Oculus Rift, Google Daydream VR, Xiaomi Mi VR. Also available for Windows Mixed Reality Samsung Gear VR, PSVR, HTC Vive or VR smartphone headset.
Then we want to keep shooting more virtual reality scenes for you. So choose quarter or annual option in the Sign up! Get inside and have great moments with our videos! Click here!
Finally you can check our network, if you want to satisfy your curiosity. Discover: VirtualRealPorn, VirtualRealPassion, VirtualRealAmateur, VirtualRealTrans our latest site VirtualRealJapan and our VR Porn game: VRLove