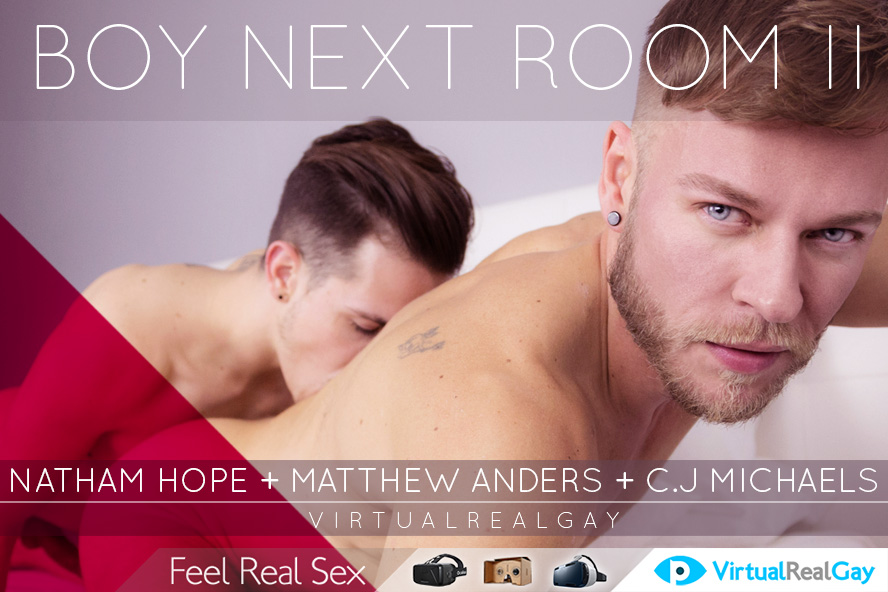 The hotness is an amazing threesome in VR!
Hi, VR Gay Porn fans!!
Today we take the hotness to another level, cause three men are ready to everything just to make you cum like a beast. Turn on your VR device and prepare yourself to this amazing scene!
In "Boy next room II", Nathan Hope is a cutie guy who has a really hot secret. When he heard how his other roommate, Matthew Anders is fucking with his boyfriend CJ Michaels, he masturbates imagining he is with them having sex. What a surprise when his lifelong dream is knocking on his door just to fuck him hard like he've always wanted. Now, the hottest three guys on Earth are together, on one bed, sharing the pleasure of stuffing their cocks inside each other asses.
Enjoy this VR porn scene in 180º FOV and our awesome Binaural Sound in your Smartphone Cardboard, Samsung Gear VR or Oculus Rift!
Boy next room II, take the hotness to a whole new level!
Enjoy this new gay video scene in 180º FOV with VR 3D technology and our astonishing Binaural Sound with our new Camera System for improving the presence even more in your Smartphone Cardboard, Samsung Gear VR or Oculus Rift!
We are excited to create new content for you: many more videos, more beautiful models, more situations… everything to satisfy all your sexual fantasies and make them real in your Oculus Rift, Samsung Gear VR or VR smartphone headset.
Help us to create more for you! Sign up NOW and ENJOY our awesome VR porn videos! REAL SEX in your Virtual Reality Headset! (Oculus Rift, Oculus DK1, Oculus DK2, Samsung Gear VR, Google Cardboard …) Watch VirtualRealGay's Boy next room, Nathan Hope for first time in a Gay VR porn scene! The best Gay VR Porn! Click here!