Amazing Cowboy in VR Gay with Noel Santoro

Amazing Cowboy in VR Gay starring by Noel Santoro!
Both Noel Santoro and you knew exactly what you wanted. What could you possibly find in a room of VirtualRealGay Hotel? After a long time, you both decided to meet again. The moment you saw him sitting, you remembered all the hot nights you snuck into his cabin and thought: Even though it's not Armed Forces Day yet, why not start this celebration a little bit earlier in VR Gay Porn?
Noel knows you can't help it when he kisses your neck; the way he touches you very slowly to feel you getting excited or you two whispering how much you want the other when Noel Santoro spoons you while fucking your rock-hard ass…and nothing like looking into each other's eyes while he's on you in cowboy position.
There's nothing like reliving those moments in virtual reality gay porn and if you can do it with no fear, then it's a double celebration!
Amazing Cowboy in VR Gay with Noel Santoro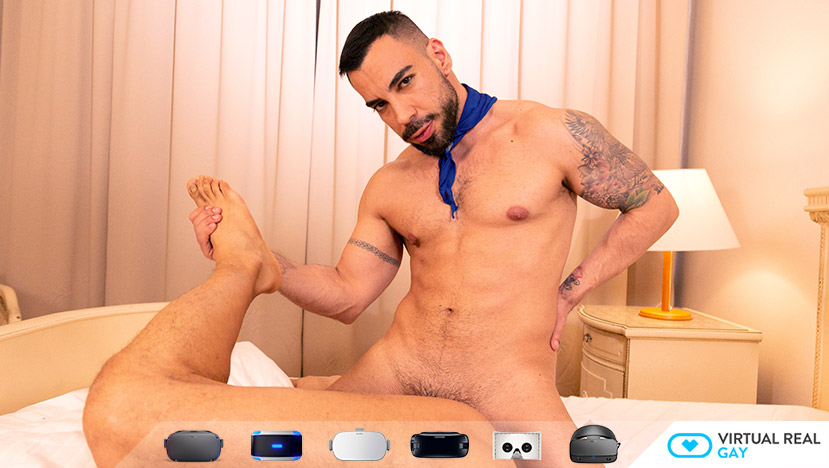 Because you are going to have a great time with this Amazing Cowboy in VR Gay video. So watch it inside your Oculus Rift S, Oculus Quest, HTC Vive or Windows Mixed Reality! Also you can watch Virtual Reality videos in 5K 180º FOV for Smartphone Cardboard, Gear VR and PSVR.
So we want to make more Amazing Cowboy in VR Gay experiences. With many more actors in lots of situations… everything to take your sexual dreams a step forward. Making them real in your Oculus Go, Oculus Rift, Google Daydream VR, Xiaomi Mi VR. Also available for Windows Mixed Reality Samsung Gear VR, PSVR, HTC Vive or VR smartphone headset.
Then we want to keep shooting more virtual reality scenes for you. So choose quarter or annual option in the Sign up! Get inside and have great moments with our videos! Click here!
Finally you can check our network, if you want to satisfy your curiosity. Discover: VirtualRealPorn, VirtualRealPassion, VirtualRealAmateur, VirtualRealTrans our latest site VirtualRealJapan and our VR Porn game: VRLove