Best solo in VR Gay with Alexis Clark

Best solo in VR Gay starring by Alexis Clark!
During the lockdown you came across a site of VirtualRealGay called only4fans.com. A website which allows you to subscribe to your favorite models' channels and get original contents. As soon as you saw Alexis Clark had one, you didn't wait a second to click on the "become a fan" button. Alexis is one of the most popular models, not only because his rock-hard ass, but his sex creativity. For example, today's video started as an ordinary pool game, but then he started feeling hot and took off his clothes as if he was doing a strip-tease, licked the pool balls, used them to rub his cock and masturbated while licking his fingers. All that was enough for you to join him in this Vr Gay solo scene.
Besides Saturday, Thursday is your favorite moment of the week. You can't wait to turn your headset on to watch a psvr porn video. The feeling every time you hear him talking in Spanish or watching him touching his chest and whispering to the camera as if he was doing it on your ear: "estás listo para empezar?" is the most exciting thing in vr xxx.
Every time he ran his hands on his hard cock, got his fingers into his ass to masturbate it, or massaged his nipples to get them hard, you could feel the heat going through your crotch. You unbuttoned your jeans and started wanking while watching him doing the same. It was so hot that, as soon as you saw Alexis Clark cumming, you couldn't resist it either.
This is definitely the best thing you've found out during these lockdown months.
Best solo in VR Gay with Alexis Clark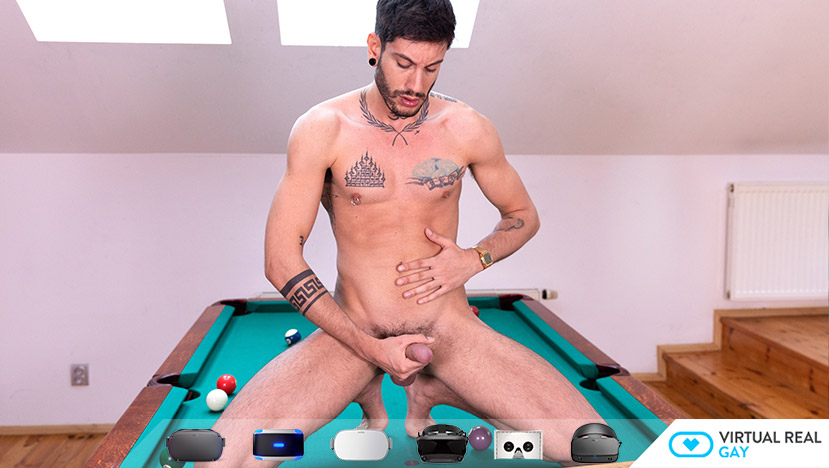 Because you are going to have a great time with this Best solo in VR Gay video. So watch it inside your Oculus Rift S, Oculus Quest, HTC Vive or Windows Mixed Reality! Also you can watch Virtual Reality videos in 5K 180º FOV for Smartphone Cardboard, Gear VR and PSVR.
So we want to make more Best solo in VR Gay experiences. With many more actors in lots of situations… everything to take your sexual dreams a step forward. Making them real in your Oculus Go, Oculus Rift, Google Daydream VR, Xiaomi Mi VR. Also available for Windows Mixed Reality Samsung Gear VR, PSVR, HTC Vive or VR smartphone headset.
Then we want to keep shooting more virtual reality scenes for you. So choose quarter or annual option in the Sign up! Get inside and have great moments with our videos! Click here!
Finally you can check our network, if you want to satisfy your curiosity. Discover: VirtualRealPorn, VirtualRealPassion, VirtualRealAmateur, VirtualRealTrans our latest site VirtualRealJapan and our VR Porn game: VRLove