Corporate Stud Jerks Off After Work in VR Gay
Corporate Stud Jerks Off After Work in VR Gay with Babylon Prince
Tattooed stud Babylon Prince Plays with a big cock
Middle Eastern stud Babylon Prince just got home from work. The exhaustion and stress after a long day in the office are obvious on his face and slow movements. The muscular lad sits on the red couch. He can feel his tall body getting heavier as he relaxes on the couch. Luckily, Babylon Prince has a sure way to relieve some stress. He slowly takes off his suit and tie, gradually showing off his hard rock muscles and artistic tattoos. After taking a few selfies, the horny lad is wearing nothing but his black briefs. Babylon teasingly strokes his cock while he flaunts his nipple piercings.
Babylon bends over on the couch and slaps his tight butt hole and firm ass. He then kneels on the cushion while continuously playing with his stiff rod. He squeezes his balls while firmly stroking his big rod. He can't help but let out moans of pleasure as he feels that he is about to reach the peak of his orgasm. Babylon keeps on jerking off his big cock without any care in the world. The only thing in his mind right now is to achieve the stress-relieving ejaculation he needs. After a few more hard strokes of his rod, he unloads his warm jizz all over his thigh and on the red couch.
Corporate Stud Jerks Off After Work in VR Gay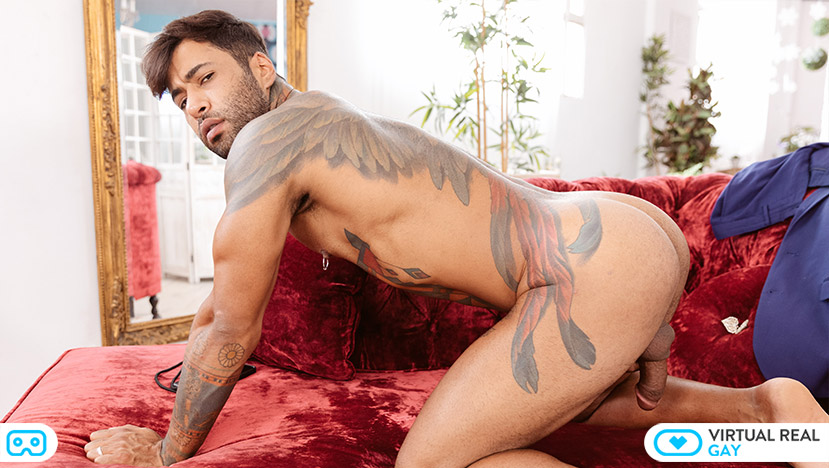 Because you are going to have a great time with this Corporate Stud Jerks Off After Work in VR Gay  video. So watch it inside your Oculus Rift S, Oculus Quest, HTC Vive or Windows Mixed Reality! Also you can watch Virtual Reality videos in 5K 180º FOV for Smartphone Cardboard, Gear VR and PSVR.
So we want to make more Corporate Stud Jerks Off After Work in VR Gay  experiences. With many more actors in lots of situations… everything to take your sexual dreams a step forward. Making them real in your Oculus Go, Oculus Rift, Google Daydream VR, Xiaomi Mi VR. Also available for Windows Mixed Reality Samsung Gear VR, PSVR, HTC Vive or VR smartphone headset.
Then we want to keep shooting more virtual reality scenes for you. So choose quarter or annual option in the Sign up! Get inside and have great moments with our videos! Click here!
Finally you can check our network, if you want to satisfy your curiosity. Discover: VirtualRealPorn, VirtualRealPassion, VirtualRealAmateur, VirtualRealTrans our latest site VirtualRealJapan and our VR Porn game: VRLove