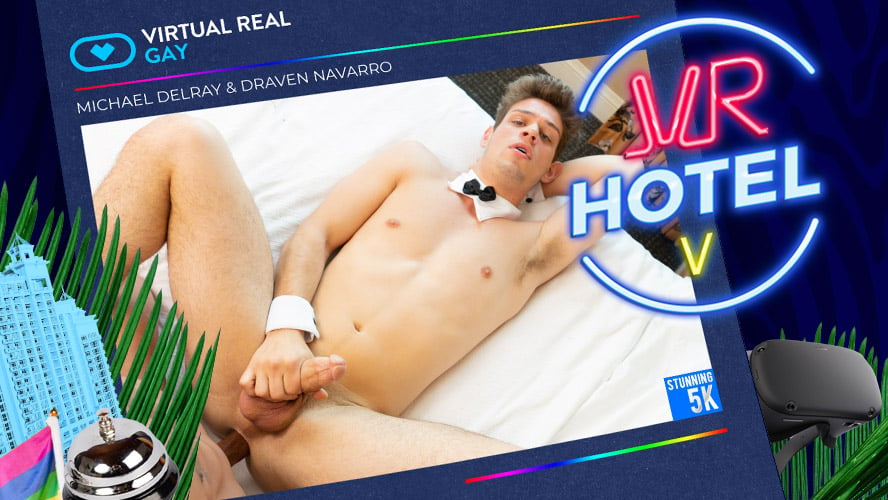 American VR gay cowboy position
American VR gay cowboy position with Michael DelRay.
Winning someone over is always difficult for you. The "shag part" is ok, after all the videos watched on VirtualRealGay you are more than a subject-matter expert, but the previous step of meeting people isn't that good. VR Hotel is well known due to the warm welcomes and the personalized service that Michael DelRay, the employee of the month, offers to his guests.
On many occasions liking your crush' pics is all you need to start an adventure in virtual reality gay porn. Sometimes, classic techniques like leaving a napkin with your room number is enough for Michael to knock on your door and give your cock a very warm welcome: a blowjob and a handjob.
Something that puts you a bit off when meeting someone is that you can't know the surprises you will find out. Let's say that watching this blond American with a dildo in his ass was more than enough to break the ice and start fucking him in reverse cowboy position.
If you want to flirt with a 5 stars guy like this blond American, you only need to leave a napkin with your room number, do doggy style and share your cum with him.
Small details are the ones which lead to great adventures.
American VR gay cowboy position with Michael DelRay

only at VirtualRealGay!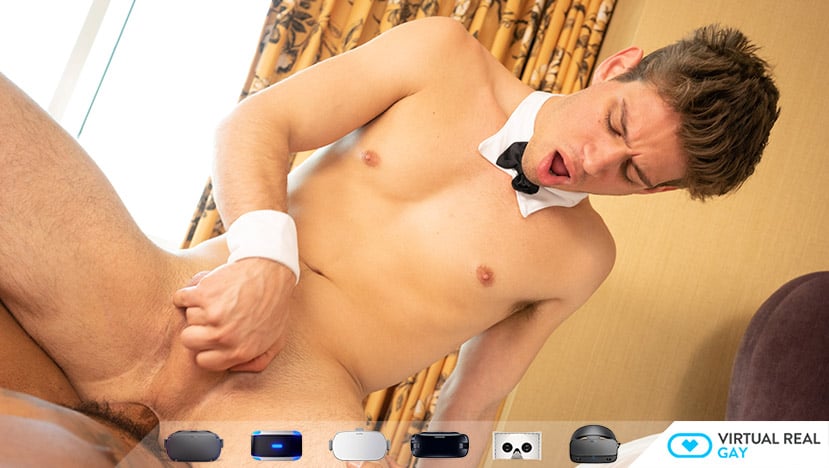 Because you are going to have a great time with this American VR gay cowboy position video. So watch it inside your Oculus Rift S, Oculus Quest, HTC Vive or Windows Mixed Reality! Also you can watch Virtual Reality videos in 5K 180º FOV for Smartphone Cardboard, Gear VR and PSVR.
So we want to make more American VR gay cowboy position experiences. With many more actors in lots of situations… everything to take your sexual dreams a step forward. Making them real in your Oculus Go, Oculus Rift, Google Daydream VR, Xiaomi Mi VR. Also available for Windows Mixed Reality Samsung Gear VR, PSVR, HTC Vive or VR smartphone headset.
Then we want to keep shooting more virtual reality American VR gay cowboy position scenes for you. So choose quarter or annual option in the Sign up! Get inside and have great moments with our videos! Click here!
Finally you can check our network, if you want to satisfy your curiosity. Discover: VirtualRealPorn, VirtualRealPassion, VirtualRealAmateur, VirtualRealTrans our latest site VirtualRealJapan and our VR Porn game: VRLove