VR gay latino masturbation with Randy Junior

VR gay latino masturbation starring by Randy Junior
You never really get to know someone 100%. As well as being one of the most sensual gay latinos in VR Gay Porn, Randy Junior has certain hobbies you would never have imagined. For example, his passion for wrestling; even though his vision of it is more like coming home after a long training day, touching his penis and start masturbating. But that doesn't mean this isn't a show worth enjoying on your oculus quest.
It hasn't been that long since he started practicing and still needs to improve all the Hulk Hogan movements, but Randy always gets the most of every fight. And if there's something he's learnt is that, if he wants to give the best on the ring, he has to know how to get ready before a fight.
After all, the key to become a professional wrestler is in the way you use your fingers to masturbate your ass and touch your cock to warm you up. There's no victory without a good warm-up.
It's true Randy Junior still has lot to learn, but when it cums to the final cumshot of every fight in VR gay xxx, he's a professional from head to toe.
VR gay latino masturbation with Randy Junior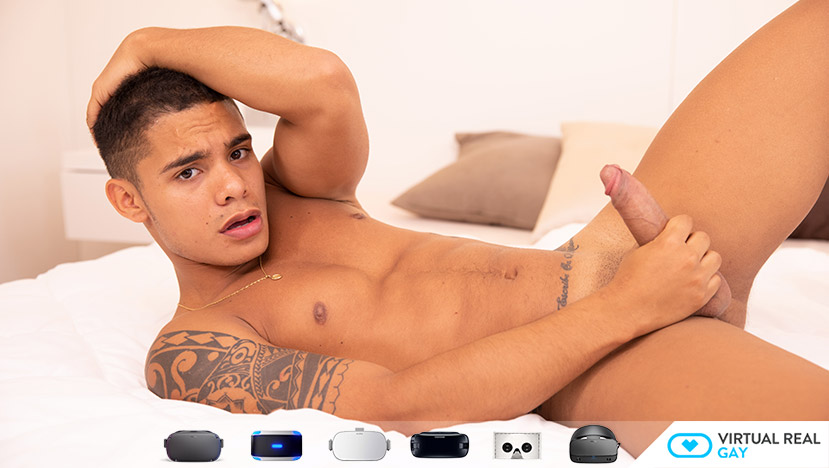 Because you are going to have a great time with this VR gay latino masturbation video. So watch it inside your Oculus Rift S, Oculus Quest, HTC Vive or Windows Mixed Reality! Also you can watch Virtual Reality videos in 5K 180º FOV for Smartphone Cardboard, Gear VR and PSVR.
So we want to make more VR gay latino masturbation experiences. With many more actors in lots of situations… everything to take your sexual dreams a step forward. Making them real in your Oculus Go, Oculus Rift, Google Daydream VR, Xiaomi Mi VR. Also available for Windows Mixed Reality Samsung Gear VR, PSVR, HTC Vive or VR smartphone headset.
Then we want to keep shooting more virtual reality scenes for you. So choose quarter or annual option in the Sign up! Get inside and have great moments with our videos! Click here!
Finally you can check our network, if you want to satisfy your curiosity. Discover: VirtualRealPorn, VirtualRealPassion, VirtualRealAmateur, VirtualRealTrans our latest site VirtualRealJapan and our VR Porn game: VRLove