Holiday Threesome in VR Gay with James and Jacob

Holiday Threesome in VR Gay with James and Jacob
Preparing this year's Christmas has become a lot easier with the help of your VR friends, James Lewis and Jacob Harris. The three of you enjoy putting up the Christmas Tree together, so you don't feel tired at all. James and Jacob fool around the Christmas Tree while you take a little break on the couch. The two handsome studs become horny all of sudden and start making out with each other. Not wanting to let you feel left out, they invite you to join their little fun. Are you ready to be part of their holiday celebration?
James and Jacob give each other a blowjob before shifting their attention to you. One of them gives you a sloppy deepthroat while the other is busy licking your man-tits. The room gets hotter by the minute as the three of you take turns fucking each other in the ass. The three of you make sure that no dick is left unattended. The seemingly endless feast of bareback cowboy, doggy and missionary continues until you all cum together. 
Threesomes are not as easy as it may look in porn. Finding the right person to join your private time with your partner can be more difficult than it sounds. If you are lucky enough to find a willing participant, pre-threesome negotiations can be quite taxing and might even kill the mood. No matter how much you try to please one another, there is always one person who will feel left out at some point. 
Holiday Threesome in VR Gay with James and Jacob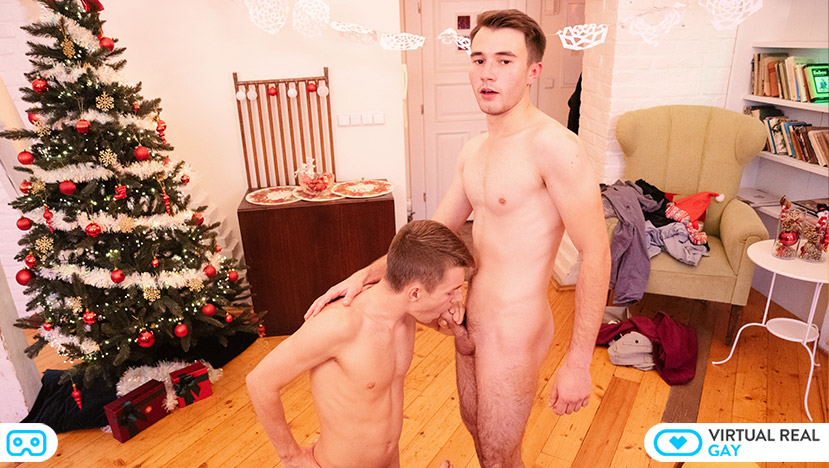 Because you are going to have a great time with this Holiday Threesome in VR Gay video. So watch it inside your Oculus Rift S, Oculus Quest, HTC Vive or Windows Mixed Reality! Also you can watch Virtual Reality videos in 5K 180º FOV for Smartphone Cardboard, Gear VR and PSVR.
So we want to make more Holiday Threesome in VR Gay experiences. With many more actors in lots of situations… everything to take your sexual dreams a step forward. Making them real in your Oculus Go, Oculus Rift, Google Daydream VR, Xiaomi Mi VR. Also available for Windows Mixed Reality Samsung Gear VR, PSVR, HTC Vive or VR smartphone headset.
Then we want to keep shooting more virtual reality scenes for you. So choose quarter or annual option in the Sign up! Get inside and have great moments with our videos! Click here!
Finally you can check our network, if you want to satisfy your curiosity. Discover: VirtualRealPorn, VirtualRealPassion, VirtualRealAmateur, VirtualRealTrans our latest site VirtualRealJapan and our VR Porn game: VRLove