Home Cooking in VR Gay with Donnie Marco

Home Cooking in VR Gay with Donnie Marco
Home cooking turns into something more with spunky Donnie Marco cooking in his underwear!
First time living alone, stud muffin Donnie Marco wants to make his first meal. With the ingredients and utensils that he is going to use ready on the kitchen counter, he sets up and starts cooking a simple meal. The hairy hunk gets a bit frustrated because he keeps fumbling and is distracted even though he was following instructions that he found online.
The atmosphere in the kitchen shifts as Donnie visibly hardens in his underwear. He starts touching himself, letting out an involuntary moan. His hands start to caress his body up and down. Donnie then slips his hand into his briefs, pulls out his aching member, and starts to stroke his shaft before grabbing a chair to sit down on. Fuelled by passion and lust, he starts to masturbate furiously. Even getting on his knees on the chair every now and then, playing with his hole until he cums all over.
Home Cooking in VR Gay with Donnie Marco
Because you are going to have a great time with this Home Cooking in VR Gay with Donnie Marco video. So watch it inside your Oculus Rift S, Oculus Quest, HTC Vive or Windows Mixed Reality! Also you can watch Virtual Reality videos in 5K 180º FOV for Smartphone Cardboard, Gear VR and PSVR.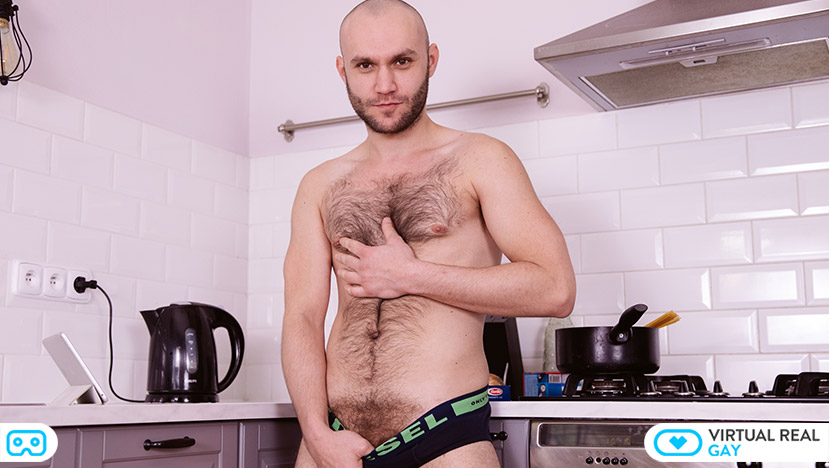 So we want to make more Home Cooking in VR Gay experiences. With many more actors in lots of situations… everything to take your sexual dreams a step forward. Making them real in your Oculus Go, Oculus Rift, Google Daydream VR, Xiaomi Mi VR. Also available for Windows Mixed Reality Samsung Gear VR, PSVR, HTC Vive or VR smartphone headset.
Then we want to keep shooting more virtual reality scenes for you. So choose quarter or annual option in the Sign up! Get inside and have great moments with our videos! Click here!
Finally you can check our network, if you want to satisfy your curiosity. Discover: VirtualRealPorn, VirtualRealPassion, VirtualRealAmateur, VirtualRealTrans our latest site VirtualRealJapan and our VR Porn game: VRLove