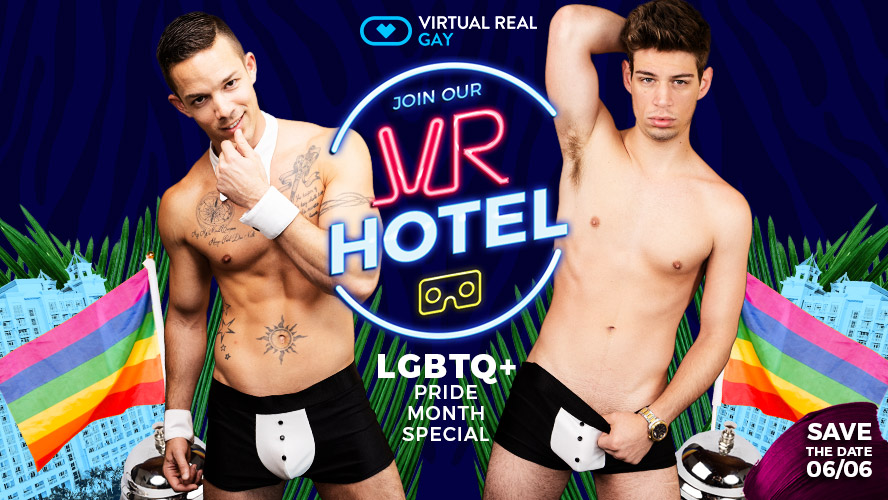 Join our VR Hotel in the LGBTQ+ Pride Month!
Special occasions deserve special celebrations. For instance, if you'll celebrate a fourth anniversary (like we will) or a birthday, you won't probably have any kind of party. But one where you end up throwing your VR headsets out of the window. Just like that happens in VR Gay Porn. LGBTQ+ Pride Month won't be like any other on VirtualRealGay, but the month to attend the big opening of VR Hotel.
Before you grab your oculusgo to check-in at this special place, we have to warn you, once you are in you won't want to go out. But more than anything, you won't stop celebrating with us.
When you decide to book a room at this place, prejudices are left outside. And the only thing that matters is being true to yourself; as we have learnt from LGBTQ+ community.
So, it't's no coincidence that we decided to open our VR Hotel in June.
If you wanna call room service, then Pierce Paris and Dave Navarro will offer you something off the menu. In VR Hotel you'll meet special and unique people like Dante Colle and Michael del Rey. You'll always have fun in here, but Pierce Paris will show you the right way to do it. 
Every room will be the perfect adventure in VR xxx to celebrate LGBTQ+ Pride Month.
Every room is a celebration in the LGBTQ+ Pride Month!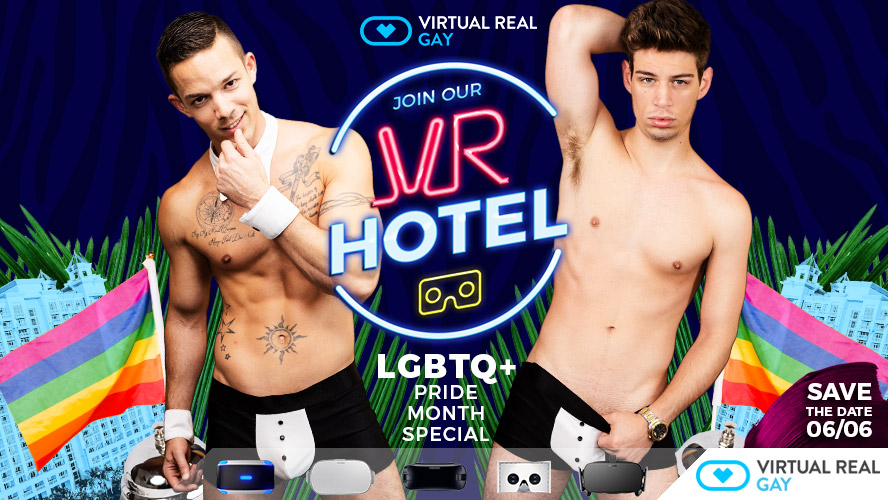 Before you start having fun, you've to remember that in VR Hotel there's always one more room left to open and enjoy!
We are glad to keep creating new videos for you: many more scenes. More beautiful actresses, a lot of different situations… everything to take your sexual wet fantasies to the next level and make them real in your Oculus Go, Oculus Rift, Samsung Gear VR, PSVR, HTC Vive or VR smartphone headset.
Help us to make more virtual reality adult fantasies for you, select quarter or annual option in the registry! Sign up NOW and ENJOY our amazing VR porn scenes! REAL SEX in your Virtual Reality Headset! (Oculus Go, Oculus Rift, Samsung Gear VR, Smartphone Cardboard, HTC Vive, Google Daydream, PSVR…) 
Also we urge you to check our variety websites in our VR Porn network like VirtualRealPorn, VirtualRealPassion, VirtualRealAmateur, VirtualRealGay our latest site VirtualRealJapan and our VR Porn game: VRLove