Shower Masturbation in VR Gay with Pavel

Shower Masturbation in VR Gay with Pavel Sora
After spending almost half a day in the gym, your VR boyfriend Pavel Sora is feeling sticky and sweaty. He wants to show off his hard-earned buns of steels to you, so he takes off his clothes and starts flexing his muscles. While he is busy flaunting, Pavel can't handle the sticky feeling any more. He shows off his big butt, then zooms out to hit the showers. 
Pavel can't help but feel a bit horny as the hot water washes away the soreness of his tired muscles. He runs his hands all over his rock-hard body until his cock becomes hard also. The naughty bearded lad can't help but jerk off as he imagines that you are watching him. He masturbates while standing up and bending over. Pavel wants to show you the full splendour of his ass, cock, and balls. He keeps on stroking his cock in the showers until he blasts his cum all over the place. 
Shower masturbation may sound a bit uncomfortable, but it can provide a whole new level of satisfaction when done correctly. The two things you need to look out for when doing shower masturbation are the water temperature and slippery floor. It doesn't matter if you are sitting, standing, or bending over, your worst enemy when it comes to jerking if the shower is slipping on the floor. Try using shower mats to give extra friction between your body and the floor. 
Shower Masturbation in VR Gay with Pavel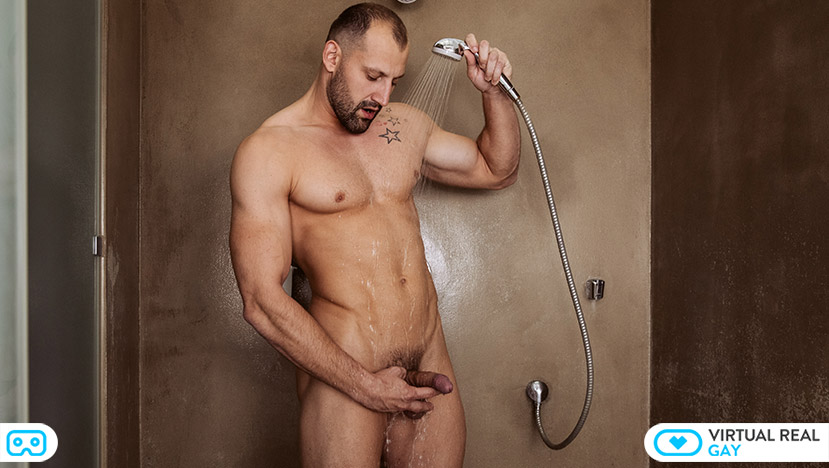 Because you are going to have a great time with this Shower Masturbation in VR Gay video. So watch it inside your Oculus Rift S, Oculus Quest, HTC Vive or Windows Mixed Reality! Also you can watch Virtual Reality videos in 5K 180º FOV for Smartphone Cardboard, Gear VR and PSVR.
So we want to make more Shower Masturbation in VR Gay experiences. With many more actors in lots of situations… everything to take your sexual dreams a step forward. Making them real in your Oculus Go, Oculus Rift, Google Daydream VR, Xiaomi Mi VR. Also available for Windows Mixed Reality Samsung Gear VR, PSVR, HTC Vive or VR smartphone headset.
Then we want to keep shooting more virtual reality scenes for you. So choose quarter or annual option in the Sign up! Get inside and have great moments with our videos! Click here!
Finally you can check our network, if you want to satisfy your curiosity. Discover: VirtualRealPorn, VirtualRealPassion, VirtualRealAmateur, VirtualRealTrans our latest site VirtualRealJapan and our VR Porn game: VRLove