VR Gay office sex with Dmitry Osten
VR Gay office sex starring by Dmitry Osten.
You know that, when you start working, you have to do it as an apprentice. That means getting the coffees and taking the jokes, such as making you believe there was going to be a Halloween costume party at VirtualRealGay Office. You thought falling into that trap the same day you have a meeting with your boss, Dmitry Osten, was pure bad luck, but working in cowboy position will make you forget the bad moment.
If there's something your boss can't stand as well as his employees watching VR Gay Porn videos at the office, that is a prank. Even though Dmitry can't stop your colleagues from playing pranks on you, his blowjob and handjob can cheer anybody up and helped him to reach his position as CEO.
Something you've learnt during this year you have been working here, is that if you impress your boss doing missionary and reverse cowboy positions, you'll become his assistant and he won't hesitate to recommend you.
VR Gay office sex with your boss
Because you are going to have a great time with this VR Gay office sex video. So watch it inside your Oculus Rift S, Oculus Quest, HTC Vive or Windows Mixed Reality! Also you can watch Virtual Reality videos in 5K 180º FOV for Smartphone Cardboard, Gear VR and PSVR.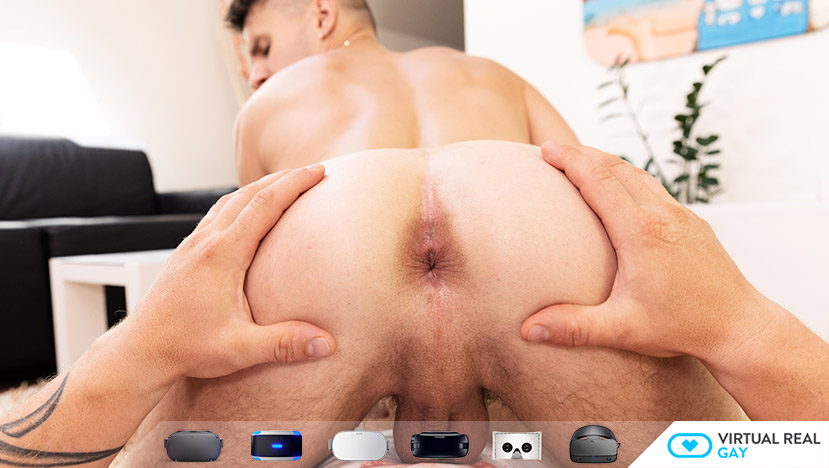 So we want to make more VR Gay office sex experiences. With many more actors in lots of situations… everything to take your sexual dreams a step forward. Making them real in your Oculus Go, Oculus Rift, Google Daydream VR, Xiaomi Mi VR. Also available for Windows Mixed Reality Samsung Gear VR, PSVR, HTC Vive or VR smartphone headset.
Then we want to keep shooting more virtual reality VR Gay office sex scenes for you. So choose quarter or annual option in the Sign up! Get inside and have great moments with our videos! Click here!
Finally you can check our network, if you want to satisfy your curiosity. Discover: VirtualRealPorn, VirtualRealPassion, VirtualRealAmateur, VirtualRealTrans our latest site VirtualRealJapan and our VR Porn game: VRLove