Double blowjob in VR Gay with Nick and Denny

Double blowjob in VR Gay starring by Nick Vargas and Denny Chris!
Today's the big day: your wedding. You've never been so sure about something as about this, so having cold feet isn't an option. Still, there are some things or rather, some experiences you would like to have in VR Gay Porn before saying "yes". The best thing about choosing Nick Vargas and Denny Chris as groomsmen, is that anything you may need, they will give you a hand with no hesitation… and other parts of their bodies too. So, when you were talking about those crazy moments and confessed you never had a gay adventure, they decided you needed to have you own "double blowjob" story with two men before walking down the aisle.
Truth is, Nick and Denny have always been there since VirtualRealGay uni. You've gone thorough good, bad and amazing experiences. You couldn't have had better friends and groomsmen. You have so many things in common like being turned on when you feel someone is masturbating your cock.
You are the protagonist. While you were fucking with one of them in missionary position, you were sucking the other's hard cock. When one of them wanted to be with you in cowboy position, other wanted to feel the other's ass in doggy style. And so you were until you couldn't wait more and came in emotion.
This will be something to remember till death do you apart for sure.
Double blowjob in VR Gay with Nick Vargas and Denny Chris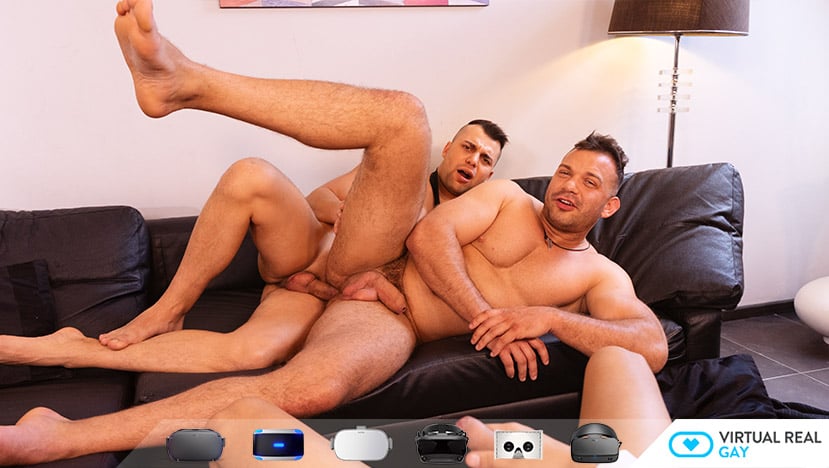 Because you are going to have a great time with this Double blowjob in VR Gay video. So watch it inside your Oculus Rift S, Oculus Quest, HTC Vive or Windows Mixed Reality! Also you can watch Virtual Reality videos in 5K 180º FOV for Smartphone Cardboard, Gear VR and PSVR.
So we want to make more Double blowjob in VR Gay experiences. With many more actors in lots of situations… everything to take your sexual dreams a step forward. Making them real in your Oculus Go, Oculus Rift, Google Daydream VR, Xiaomi Mi VR. Also available for Windows Mixed Reality Samsung Gear VR, PSVR, HTC Vive or VR smartphone headset.
Then we want to keep shooting more virtual reality scenes for you. So choose quarter or annual option in the Sign up! Get inside and have great moments with our videos! Click here!
Finally you can check our network, if you want to satisfy your curiosity. Discover: VirtualRealPorn, VirtualRealPassion, VirtualRealAmateur, VirtualRealTrans our latest site VirtualRealJapan and our VR Porn game: VRLove