Hot Costume Threesome in VR Gay

Hot Costume Threesome in VR Gay with Charlie Cherry, Valentino Sistor and Pietro Duarte
Charlie Cherry and Valentino Sistor loves to please you all day.
Charlie Cherry just bought costumes for your Halloween party. Despite the actual celebration still in the near future, Charlie, Valentino Sistor, and you can't wait to try out the stylish and sexy costumes. While trying to fit in the new costumes, the three of you can't help but feel hard and horny. Valentino drops on his knees and starts alternately sucking your shaft and Charlie's. The two then bang each other doggystyle while you watch. Muffled moans of pleasure fill the room while you shag Valentino in the ass while his mouth is busy pleasing Charlie's rod. 
You and Charlie double penetrated Valentino's mouth and asshole in missionary, doggy, and reverse cowboy. Valentino can't do anything but moan in delight while you simultaneously spitroast him hard. The bearded dark-haired lad takes some rest for a while and watches Charlie pound your ass in missionary. The horny duo continues to fool around in front of you while jerking off their stiff rods. The three of you stroke your own cocks at the same time until all of you cum on your crotch. You can feel the sticky jizz of the three of you mixing together on your body as Charlie and Valentino dump their loads on you. 
See more gay VR threesome porn videos at VirtualRealGay.
Hot Costume Threesome in VR Gay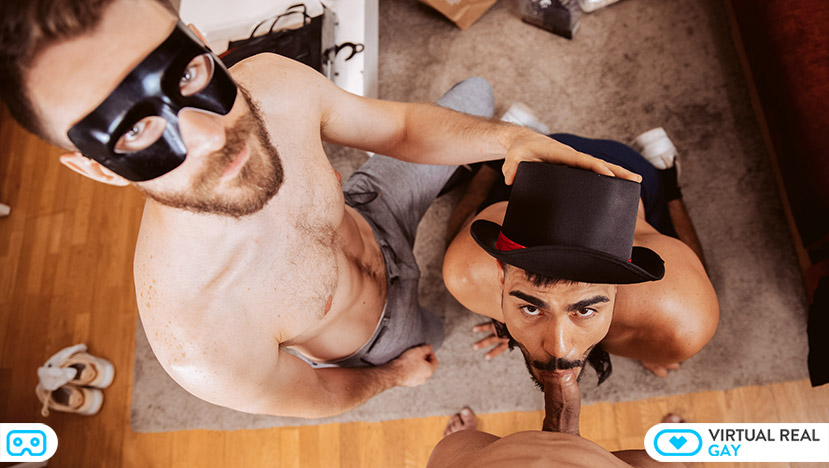 Because you are going to have a great time with this Hot Costume Threesome in VR Gay  video. So watch it inside your Oculus Rift S, Oculus Quest, HTC Vive or Windows Mixed Reality! Also you can watch Virtual Reality videos in 5K 180º FOV for Smartphone Cardboard, Gear VR and PSVR.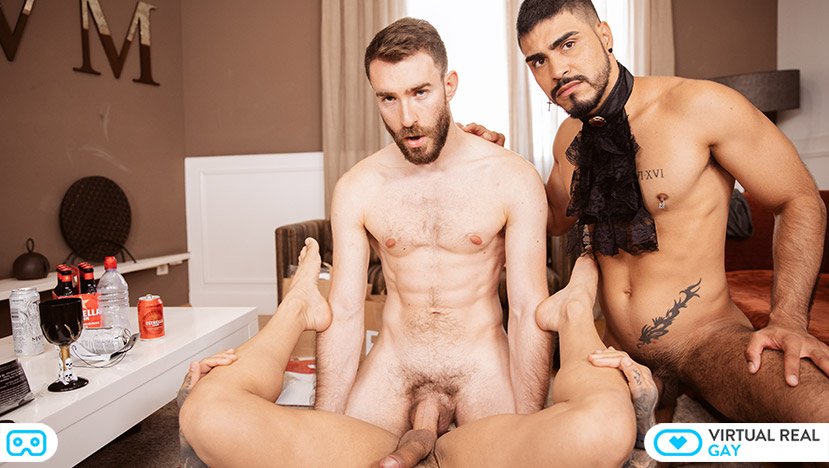 So we want to make more Hot Costume Threesome in VR Gay  experiences. With many more actors in lots of situations… everything to take your sexual dreams a step forward. Making them real in your Oculus Go, Oculus Rift, Google Daydream VR, Xiaomi Mi VR. Also available for Windows Mixed Reality Samsung Gear VR, PSVR, HTC Vive or VR smartphone headset.
Then we want to keep shooting more virtual reality scenes for you. So choose quarter or annual option in the Sign up! Get inside and have great moments with our videos! Click here!
Finally you can check our network, if you want to satisfy your curiosity. Discover: VirtualRealPorn, VirtualRealPassion, VirtualRealAmateur, VirtualRealTrans our latest site VirtualRealJapan and our VR Porn game: VRLove