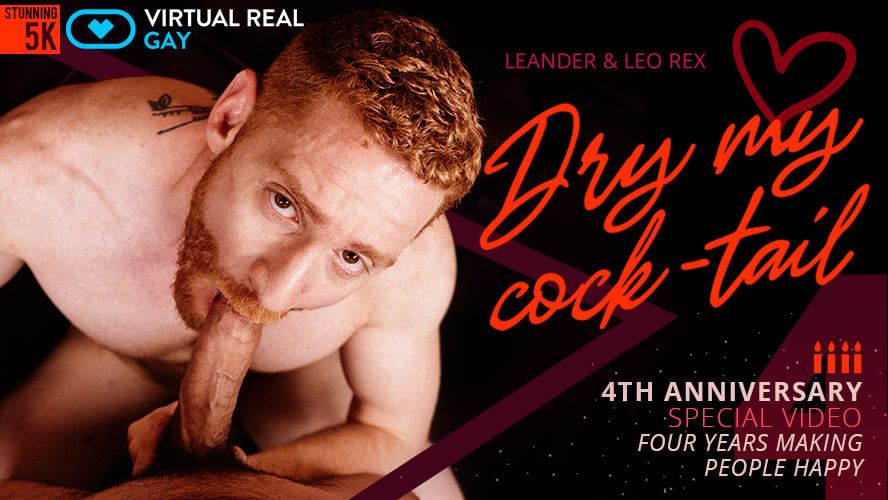 Redhead gay VR sex anniversary
Redhead gay VR sex celebrating the fourth anniversary of VirtualRealGay!!!
We all have that dream: becoming a porn actor. Luckily for you, you did end up reaching your goals in VR Gay Porn. Contrary to what people may think, not everything is about grabbing your oculus quest and masturbating till cummin with emotion, sometimes it's celebration time. Today you will be celebrating the fourth anniversary of the website you work with, VirtualRealGay.
Everywhere you go, people always get surprised when they find out what you do for a living. You will know well-gifted Leander in the bar where the party is taking place, and he will want, not only to talk to you, but also to your penis doing you a blowjob and a handjob.
This British guy couldn't make his dream of becoming a porn actor true, but fucking with one of them in cowboy and reverse cowboy positions, will be more than enough for him.
The best about VR xxx experiences, is that you always learn something new. For you it was preparing a dry martini, for him, knowing the taste of a cumshot in his mouth.
After all, 4 years in VR xxx can't be celebrated every day!
Redhead gay VR sex with your favourite barman!!!
Because you are going to have a great time with this Redhead gay VR sex scene. So watch it inside your Oculus Rift, Oculus Go, HTC Vive or Windows Mixed Reality! Also you can watch Virtual Reality  videos in 4K 180º FOV for Smartphone Cardboard, Samsung Gear Vr and PSVR.
So we want to make more Redhead gay VR sex experiences. With many more actors in lots of situations… everything to take your sexual dreams a step forward. Making them real in your Oculus Go, Oculus Rift, Google Daydream VR, Xiaomi Mi VR. Also available for Windows Mixed Reality Samsung Gear VR, PSVR, HTC Vive or VR smartphone headset.
Then we want to keep shooting more virtual reality Redhead gay VR sex scenes for you. So choose quarter or annual option in the Sign up! Get inside and have an amazing time with our scenes! Click here!
Finally you can check our network, if you want to satisfy your curiosity. Discover: VirtualRealPorn, VirtualRealPassion, VirtualRealAmateur, VirtualRealTrans our latest site VirtualRealJapan and our VR Porn game: VRLove