The Bearded Hunk in VR Gay with Adam Stahl

The Bearded Hunk in VR Gay with Adam Stahl
The charming Adam Stahl finds a satisfying way to destress after a long day at work.
After a long and tiring day of being in the office, the suave Adam Stahl walks into his home and situates himself on his grey couch as he lets out a heavy sigh. He's been feeling tense and exhausted  that he wants to release the tension he's been feeling. The bearded hunk just knows what to do. 
Adam begins to shrug off his black coat and unbuttons his shirt to reveal his decadent hairy chest before slipping a hand into his pants. He reveals that he is wearing backless briefs as he strips off all his clothing and gets on his knees on the couch to take it off. Adam lays back down and starts to give himself a handjob, moaning without a care in the world. He then grabs his favourite blue dildo when his hands and fingers are not enough. He frantically slides his hands up and down his shaft to push himself off the edge and cums all over himself.
.
The Bearded Hunk in VR Gay with Adam Stahl
Because you are going to have a great time with this The Bearded Hunk in VR Gay video. So watch it inside your Oculus Rift S, Oculus Quest, HTC Vive or Windows Mixed Reality! Also you can watch Virtual Reality videos in 5K 180º FOV for Smartphone Cardboard, Gear VR and PSVR.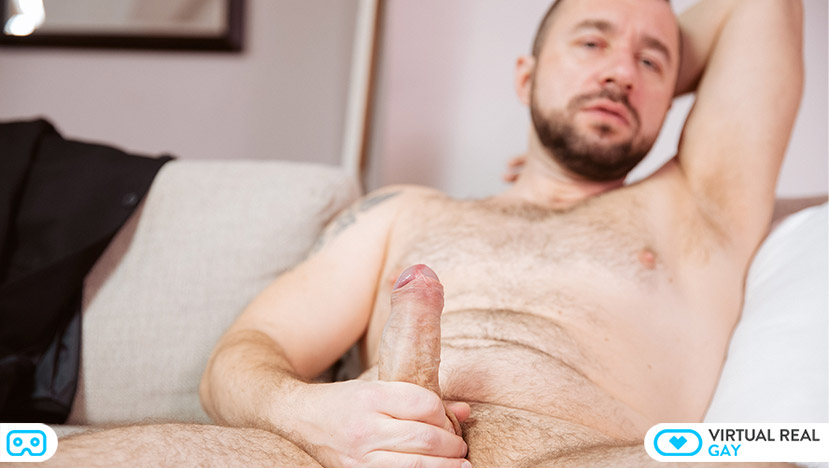 So we want to make more The Bearded Hunk in VR Gay  experiences. With many more actors in lots of situations… everything to take your sexual dreams a step forward. Making them real in your Oculus Go, Oculus Rift, Google Daydream VR, Xiaomi Mi VR. Also available for Windows Mixed Reality Samsung Gear VR, PSVR, HTC Vive or VR smartphone headset.
Then we want to keep shooting more virtual reality scenes for you. So choose quarter or annual option in the Sign up! Get inside and have great moments with our videos! Click here!
Finally you can check our network, if you want to satisfy your curiosity. Discover: VirtualRealPorn, VirtualRealPassion, VirtualRealAmateur, VirtualRealTrans our latest site VirtualRealJapan and our VR Porn game: VRLove