Threesome with Muscled Studs in VR Gay

Threesome with Muscled Studs in VR Gay with Tomas Fuk, Hugo Antonin, and James Lewis
Tomas Fuk and Hugo Antonin are here to please you. 
Your good friends, Tomas Fuk and Hugo Antonin, are chilling with you in the living room. While the three of you are talking, Hugo suddenly remembers his lederhosen pants that went missing a few days ago. The three of you still don't know where it is. Instead of dwelling over something that can't be resolved, Hugo and Tomas decide to play with you instead. The horny lads don't want to waste any time. They immediately take off your pants and take turns giving your stiff rod a blowjob. Hugo then sticks his throbbing shaft into your bum in missionary while Tomas licks and sucks his hard nipples.
Tomas bangs your ass in spoon while Hugo jerks off your dick. The boys continue to take turns pounding your firm ass and jerking off each other. They can't help but moan in delight as they move to press their muscled body against yours while banging you hard. They tirelessly slide their cocks in and out of your asshole until they feel like they are about to cum. Hugo and Tomas stop pounding you and start stroking their shafts while watching you masturbate. They then unload their warm and fresh jizz all over your body. Tomas and Hugo flaunt their fit bodies while basking in the pleasure of the intense threesome. 
Watch more sensual threesome VR porn videos at VirtualRealGay.
Threesome with Muscled Studs in VR Gay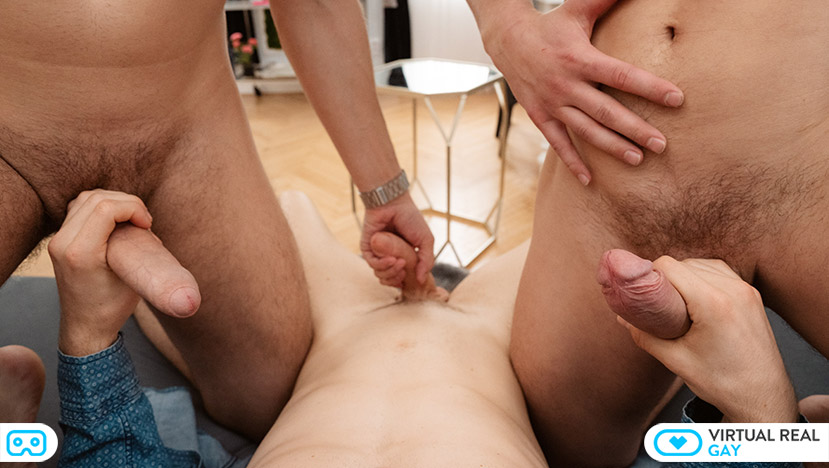 Because you are going to have a great time with this Threesome with Muscled Studs in VR Gay  video. So watch it inside your Oculus Rift S, Oculus Quest, HTC Vive or Windows Mixed Reality! Also you can watch Virtual Reality videos in 5K 180º FOV for Smartphone Cardboard, Gear VR and PSVR.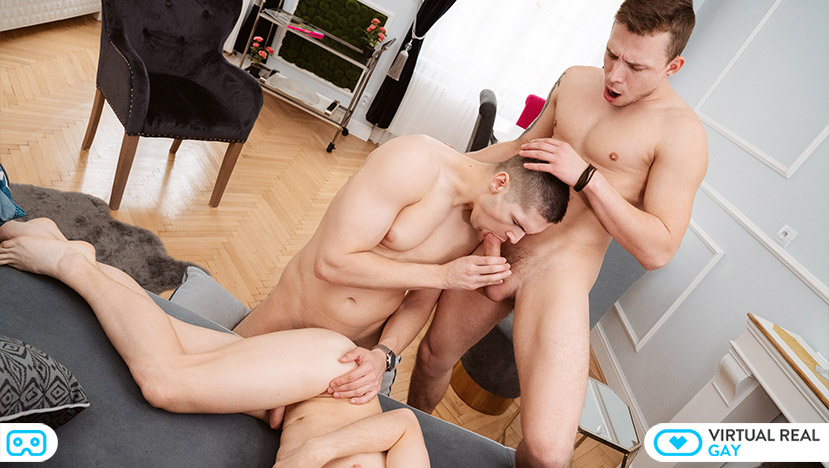 So we want to make more Threesome with Muscled Studs in VR Gay  experiences. With many more actors in lots of situations… everything to take your sexual dreams a step forward. Making them real in your Oculus Go, Oculus Rift, Google Daydream VR, Xiaomi Mi VR. Also available for Windows Mixed Reality Samsung Gear VR, PSVR, HTC Vive or VR smartphone headset.
Then we want to keep shooting more virtual reality scenes for you. So choose quarter or annual option in the Sign up! Get inside and have great moments with our videos! Click here!
Finally you can check our network, if you want to satisfy your curiosity. Discover: VirtualRealPorn, VirtualRealPassion, VirtualRealAmateur, VirtualRealTrans our latest site VirtualRealJapan and our VR Porn game: VRLove